CUSTOM BACKLIT MIRRORS.

Look into a Spacia Group backlit mirror and feel confident about what you see.
Spacia backlit mirrors can be fabricated in a variety of styles, shapes and sizes. From a standard design to a fully customized project, and everything in between, we'll pair you with the perfect pieces certain to set your space apart.
Our mirrors are vinyl backed and treated with finger-proof sealant. Not only does the sealant circumvent smudge, it prevents the mirror's edges from oxidizing. Built-to-last chassis are powder coated and suited for damp locations, and our silicone encased LED strips are waterproof. Spacia mirrors meet or exceed all current brand and industry standards as a result of proven design and quality components. Our sophisticated fabrication ensures consistent, durable and long-lasting mirrors capable of withstanding the normal everyday wear and tear. All backlit mirrors are covered with a 5-year general warranty and a 15-year light replacement.
IT'S WHAT'S ON THE INSIDE THAT MATTERS.
Spacia backlit mirrors are powered by trusted premium drivers. These reputable products are sophisticated, undergoing stringent safety, efficiency, and quality procedures that assure longevity. Mirrors are UL tested, approved, and appropriately labeled.
Mirrors are either hard-wired or fitted with a plug-in unit. We suggest taking advantage of the 3-prong plug for an easier install. With a 3-prong plug, an electrician is not required for mirror installation. Plus, the position of the power source (standard duplex electrical outlet) is flexible. In other words, centering the outlet precisely behind the chassis is not necessary. The cord allows for some wiggle room.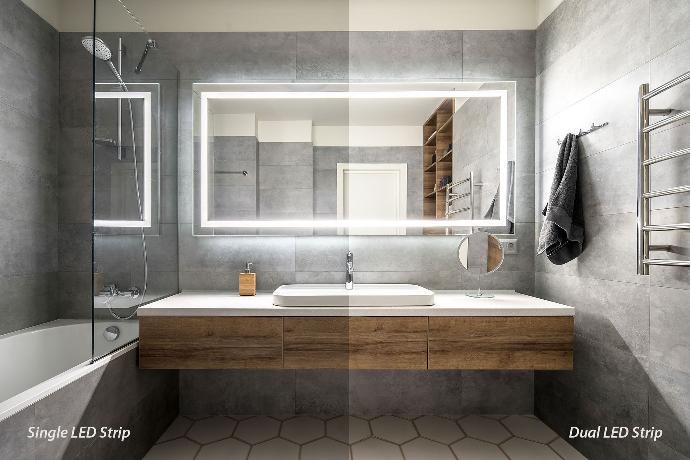 SHED SOME LIGHT.
Unless otherwise specified, our backlit mirrors are equipped with dual 3000K LED strips. 3000K offers a brilliant, flattering warm-white illumination ideal for bathroom tasks. While higher Kelvins may appear brighter due to a greater contrast the cooler light provides, they do not actually emit more lumens. (Anything above the 3500K range will deliver a "blue" hue.)
The size of your mirror will determine the number of lumens—or brightness. The bigger the mirror, the brighter. No matter the size, however, our dual LED configuration adequately serves as a single light source.
OUR MOST SOUGHT AFTER STYLES.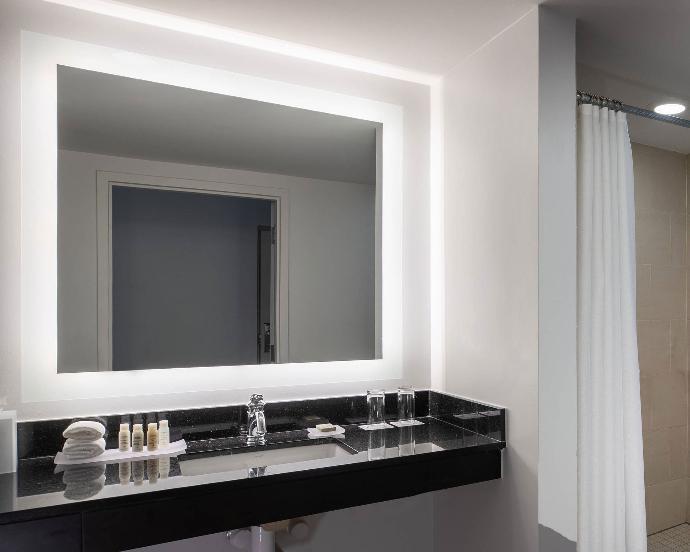 LAINA
Our most popular backlit, the Laina features sophisticated fabrication paired with sleek style. All four sides of the mirror's outer edges are designed with a 3" frosted frame allowing for a heavenly glow.
CAITLIN
Equivalent to the Laina, also equipped with superior components and a classic semblance, the Caitlin features an inset four-sided 2" frosted frame visible from the mirror front. The Caitlin's alluring gleam is another fan favorite.
JUSTIN
Frosted 3" banding flanking either side of the mirror's edges define the Justin. This handsome backlit is simply divine and carefully constructed. Most commonly used for ADA/Handicapped accessible bathrooms.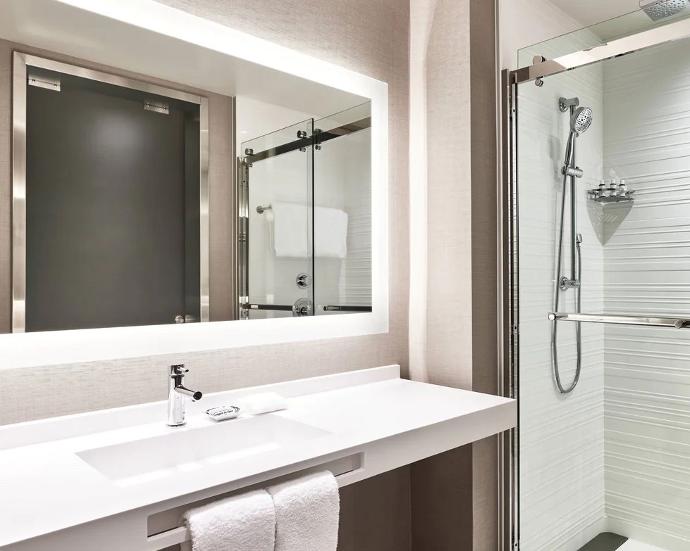 Standard Specifications.
5mm copper-free, polished silver mirror, ultra-clear with safety backing
Frosting sealed to prevent oxidation
White powder-coated metal chassis & cleats
Powered with trusted premium drivers
UL tested, approved and appropriately labeled
120V, 50/60 Hz 3-prong plug
CRI 90+
CCT: 3000 Kelvin
Dual silicone gasket moisture barrier between chassis & mirror
Easy installation
5-year general warranty, 15-year LED strips
Available in various sizes
Optional Features.
Create your own specification with these optional add-ons.