CUSTOM BARN DOORS.

Let us open—or slide—the door to endless possibilities.
Our innovative custom sliding barn door system is exceptional right down to the core. Advanced engineering of both door and hardware guarantees a quality product with easy installation. Not to mention, it looks good too.
Our sliding barn doors, along with the hardware, are crafted in a variety of styles and configurations. From a standard design to a fully customized project—and everything in between—we'll pair you with the perfect pieces certain to set your space apart. Send us your Pinterest pins/boards, or any inspiration for that matter, and a Spacia representative will guide you through the customization process. Not sure where to begin? Start by browsing our Door Design Ideas below: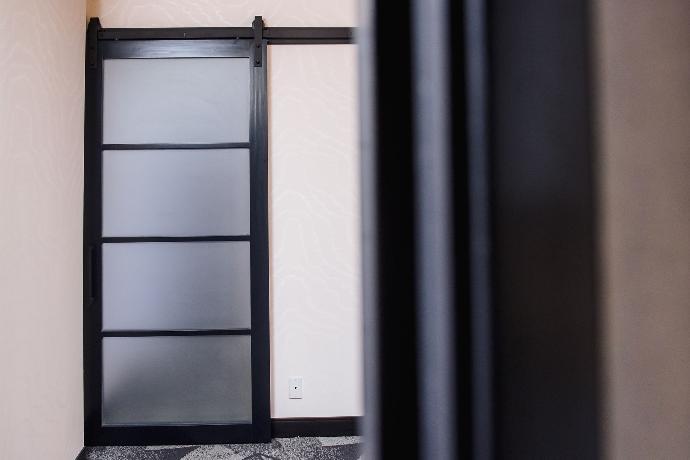 DOOR DESIGN
Begin by choosing a door substrate: wood (HDF)*, tempered glass/acrylic, metal or a combination (i.e. metal with glass). *When a wood finish is desired, a real wood veneer is applied to the door's core.
TIP—Reference WilsonArt™ (or similar) for wood species. NOTE—Real wood veneer is used in the construction, not laminate, and bonded with a waterproof and thinner-proof binder. TIP—If choosing a painted surface, reference Sherwin-Williams™ (or similar). NOTE—Painted doors include a 5-step process of three primer coats and two finish coats.
Through much research and development, including site visits and input from clients and installers, we have developed a sliding barn system that is second to none. Spacia stands behind its superior barn doors, so much so that each product includes a 5-year general warranty and a 10-year warranty against warping (in accordance to industry allowable tolerances). Our solid construction ensures consistent, durable and long-lasting doors capable of withstanding the normal everyday wear and tear.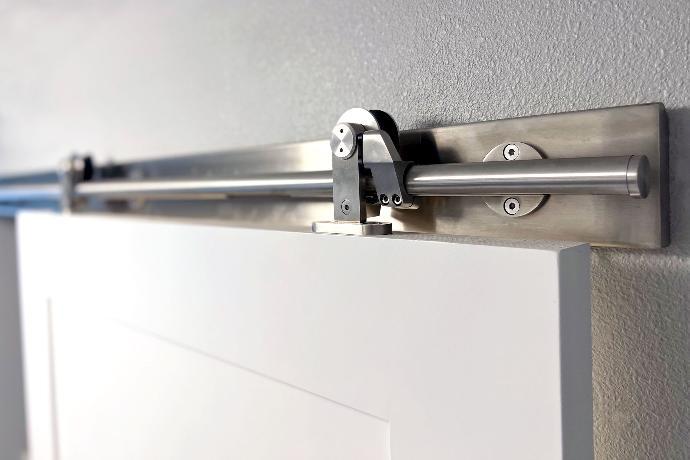 HANG WITH EASE
Our patent pending EZ Hang system for Spacia custom barn doors is everything you didn't know you needed. We've consolidated the intricacies of barn door hanging hardware into a simple, strong and stylish solution. The EZ Hang plate paired with the EZ Hang cleat makes installation a breeze. In fact, it's as EZ as 1-2-3. Plus, it will save installers more than half the time required to hang a barn door track kit.


Why EZ Hang? It's simple—everyone is happy.
Designers are happy because it's aesthetically pleasing and available in different finishes. Architects are happy because its placement is versatile and secure. Installers are happy because it really is that easy to hang, plus it saves on time. Owners are happy because—all of the above.
And we're happy because you're happy.